I love anything you can cook in a slow cooker, and add a huge bonus when you can make two different meals out of one recipe. I use my slow cooker at least once a week. It's so great for days where you have a ton of errands to do, or days where you just don't feel like spending your evening in the kitchen making dinner.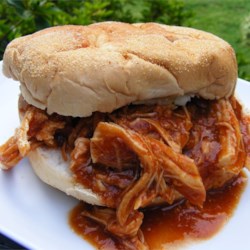 Seriously. This is SO simple. And SO delicious.
4-6
skinless, boneless chicken breast
(I plan for leftovers so for a family of two "eaters" I usually use 4 chicken breasts)
1 (12 ounce) bottle
barbeque sauce
1/2 cup
Italian salad dressing
2 tablespoons
Worcestershire sauce
Place chicken in a slow cooker. In a bowl, mix the barbecue sauce, italian salad dressing, brown sugar, and worcestershire sauce. Pour over the chicken.
Cover, and cook 3 to 4 hours on high or 6 to 8 hours on low.
I usually cook mine for about 6 hours.
With about an hour left, I shred the chicken, re-cover and then let it finish cooking.
Lately, we've been making mini sandwiches by serving them on Kings Hawaiian Sweet Rolls and of course, some homemade french fries!
THEN. With the leftovers, which we always have a lot of since Jackson can't dig in just yet... I make a BBQ chicken pizza!
picture via: food.com
All you will need for that is your leftover shredded BBQ chicken, pizza crust, some mozzarella cheese, and I top ours with some onion and tomato.
It literally takes me about 10 minutes.
Hope everyone had an amazing weekend, and thanks for stopping by!