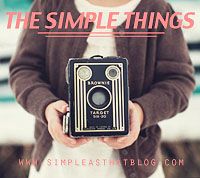 So, what exactly is Simple Things Sunday?
"This weekly photo share is all about taking time to photograph the everyday details that make your life unique, beautiful, and special. Each Sunday we gather here to share our photos with each other. To enjoy the beauty that can be found in the ordinary and to be reminded of just how important the simple things are."
I think this is such a beautiful idea, and I can't wait to share with you each Sunday!
If you want to join along, a few quick and simple rules:
2. Link back directly to your Simple Things post not your blog/website.
No links to other linky parties, giveaways or craft projects pretty please.
This linky is all about the photos.


3. Be sure to pop by and visit at least 3 other links and leave a comment.
Leave as many as you can!
And that is it! So, today I am excited to bring you my very first Simple Things Sunday!
While on a walk this weekend with my family, my little man (with help from his Daddy) picked these BEAUTIFUL flowers for me. Made me smile so big! I wish there would of been a way to keep them forever.
This week, with the weather cooling off in Arizona, I took multiple walks to the park with my little man. He absolutely loves the park, where we enjoy our walk around a lake and feed the ducks! Seeing the excitement on his face and his eyes light up, is priceless.
I never want to forget the look on my little man's face, when we let him do something he is not supposed to be doing, just yet. This morning, my husband was "sharing" his breakfast, and Jackson could not get enough of "eating" off of Daddy's spoon.
My baby sister moved to California about a month ago. She means the world to me, and I miss her so much, so I was crazy excited when she came home for the week. Family is by far the most important thing to me, and I absolutely LOVE seeing my family with my little man. He is the most precious little boy, and loved like no other.
Hope everyone had an amazing weekend!