This was a big moment for me. The first time since I was about seven months pregnant, I was able to get my wedding ring on! I was heartbroken when I was pregnant and had to take it off. I am proud to be married to the most amazing man, and missed wearing it every day. I know every girl says the same thing, but I do believe my wedding ring is by far the most beautiful ring I've ever seen. It's absolutely perfect, and I am beyond thrilled to be wearing it again!
I already know moments, and pictures like this, are ones that I will cherish for the rest of my life. My little man cried and cried, overtired and teething are not a good mix. The feeling I get once I calm him down, and once he finally falls asleep with his arms wrapped around me is truly priceless.
Speaking of teething. My little man officially has TWO little teeth. As much as I already miss that little gummy smile, these little two teeth make him even cuter... and I'm not sure how that is even possible!
This weekend we went to a fall league baseball game with my parents to watch some of the young Cubs prospects. The best part about fall league games. Tickets are dirt cheep ($6) the stadiums are empty, and you can sit wherever you want. We had an amazing time, and my husband even caught a ball for Jackson! After the game, Ryan took Jackson to the dugout, and all the Cubs players signed the ball for him. I will never forget the huge smile on my husband's face. He was SO excited to not only catch a ball for our little man, but then getting it autographed too!
Jackson LOVES the outdoors. Saturday we took a drive to the park to enjoy the gorgeous morning, and let Jackson hang out in the grass. The weather could not have been better, and it was so relaxing to just hang out the three of us.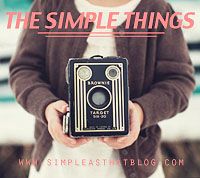 If you want to join along, a few quick and simple rules:
2. Link back directly to your Simple Things post not your blog/website.
No links to other linky parties, giveaways or craft projects pretty please.
This linky is all about the photos.


3. Be sure to pop by and visit at least 3 other links and leave a comment.
Leave as many as you can!